Raise your hand if you're busy these days!
The holidays can make us all a little crazy, right? Between shopping for everyone on your list, sending out Christmas cards, wrapping presents, all the parties and family functions, it's a lot more than we normally have going on! Add in work deadlines looming before Christmas (I am definitely feeling that one) and it feels like there's just so much to do.
Even though the holidays shouldn't be stressful, they often feel that way. Wouldn't it be great if we just slowed down, though? I hate feeling rushed, busy, and stressed. And there's no reason we have to feel that way. With some careful planning, all of those to-dos are usually not as daunting as we think. I try to always take time to enjoy the little things that make the holidays so special and to just be in the moment.
Here are some ideas for de-stressing, enjoying the little moments, and erasing the word "stressed" from our vocabularies this year.
Have a mini spa night
A bathtub was on my "must-have" list when we were house hunting last year. When it's cold outside it's one of my favorite ways to unwind at night.
You don't have to be a bath-lover, though! All you need are a couple candles, a "spa" playlist on Spotify or Pandora, and whatever else you need to pamper yourself. Sheet masks are always a good choice! The key is that you must stay off any email, social media, or internet for a solid hour, minimum. The Eucalyptus Spearmint scent from Bath and Body Works is my ultimate favorite when it comes to de-stressing bath products.
Finish up your spa night (or hour) wrapped up in a soft robe and a spritz of something soothing on your pillow and you're good to go!
Make a festive holiday drink and sit by the fire
Suggestions include spiced cider, a glass of wine, or anything with cranberries in it. It doesn't have to be alcoholic. A cup of hot chai tea would be perfect!
The key to making this work is, again, staying off your phone. Read a book, write in a journal, or just have a conversation with your spouse, cat, or whoever. I often find myself looking up from my phone to see Bella just staring at me. I'm busy looking at Instagram and all she wants to do is hang out.
Pour a drink and tell yourself that you're not allowed to turn on the TV or look at your phone until it's finished. And no, that is not an excuse to chug a glass of wine!
Drive around and look at the Christmas lights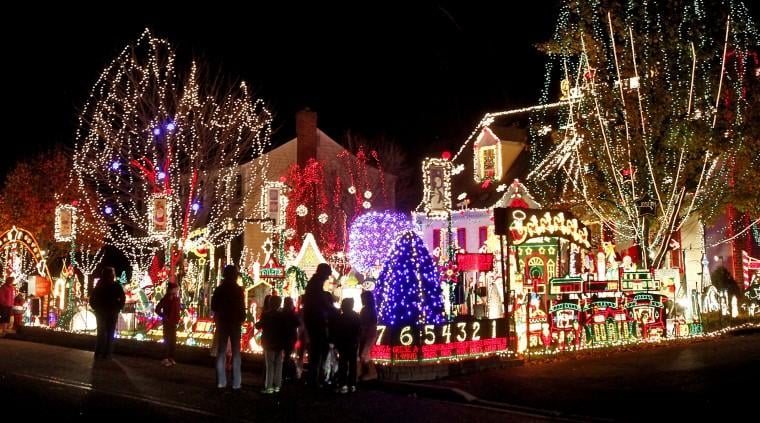 Grab your family or friends and hop in the car to drive around and check out the lights nearby. There's even a website that lets you type in your zip code to find out where all the best ones are! Turn on the cheesiest Christmas playlist you can find and channel your inner kid for an hour.
Adjust your workout routine
I've been running a lot lately, but during the holidays I also recognize the need to slow things down a bit. If you're always used to high-intensity workouts, try incorporating yoga once a week. Or take one of those runs down to a brisk walk to take in the sights and just be more in tune with your surroundings. It'll help you appreciate the little things more than when you're always go-go-go.
Similarly, adjust your expectations for how often and how long you're working out. If your days are more packed than usual, maybe you don't have time for a full hour. Squeezing in just 20-30 minutes is always better than nothing!
How do you de-stress during the holidays?
If you have one free hour to do anything just for yourself, what will you do?